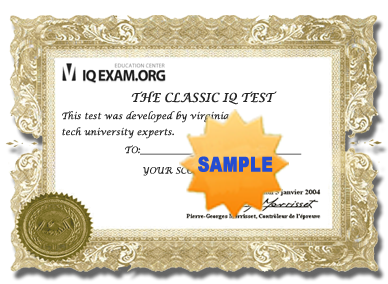 Intelligence Test is a process of quantifying intelligence or basic thinking ability and therefore conducted to measure underlying mental ability of a person rather than academic achievement. Therefore intelligence test are psychological test that are basically designed to measure variety of mental abilities and skills such as reasoning, problem solving, judging etc. In this regard, the purpose of taking the intelligence test is to evaluate one's intellectual potential and abilities. Therefore, in this article we will be highlighting some mere facts about the intelligence test that is also popularly known as IQ test or the intelligence quotient test.
It is to be noted that nowadays there are various types of intelligence test are available in the market and in this regard, many sites too are offering free IQ test online that are nothing but a mere intelligence test. These tests mainly determine the reasoning ability, decision-making ability, and problem solving ability and many more such mental aspects and qualities. So different intelligence test used to measure these various mental aspects in different way and therefore in order to get the actual result it is better to take multiple free IQ test . Well therefore while taking an intelligence test, a person can expect to do wide variety of tasks that might include having to answer questions that are asked orally, doing and solving mathematical problems, and apart from this doing a variety of tasks that require eye-hand coordination, reasoning abilities, problem solving and many more. Here some tasks may have to completed in a fixed period and therefore require the person to work as fast as possible.
In this regard, one point has to keep in mind that in a standard IQ test most of the questions and tasks starts with easy questions and progressively get more difficult. Therefore as one moves to further advance stage in the test more difficulties a candidate used to face and that is the key aspect of an accurate IQ test. If a person is unsure of an answer, guessing is usually allowed and here comes the actual test of your mental reasoning, and thinking abilities. Here basically, four types of Intelligence tests are available in the market and they are Stanford-Binet Intelligence Scales, Wechsler-Adult Intelligence Scale, and Wechsler Intelligence Scale for Children, Wechsler Primary, and the Preschool Scale of Intelligence. Well here one thing has to mentioned that generally an intelligence test used to measure wide variety of human behaviour much better than any other evaluation module. So the tests are conducted among the people of same age group in order to evaluate the exact intelligent potential and here is the USP of a standard IQ test that truly helps to determine one's intelligent potential. Therefore for this reason nowadays the intelligent test are conducted even by corporate while recruiting a new candidate in order to determine the mental steadiness and intelligence of a person willing to join the company. So even schools are conducting these tests in order to develop reasoning, decision making and problem solving skill among students and this regard students are made to appear many free online IQ test.